How to protect your rental property in Little Rock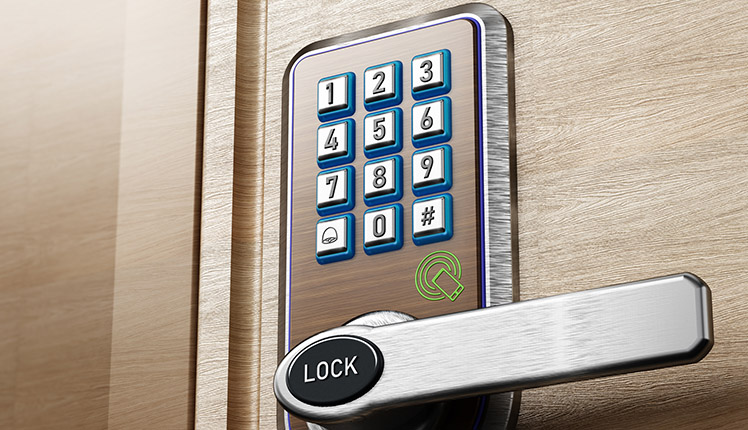 Irregardless of whether you lease out your family's cottage or you own a diverse portfolio of Airbnbs, you may find it a challenge to protect your rental properties in Little Rock. With metal keys passing through different occupants, it's simple to worry about missing items or past visitors arriving unexpectantly. In addition, what would you do in the event of a flood or fire at your Airbnb while you're offsite?
From enhanced locks to comprehensive security with home automation, here's a quick guide on how to protect your Airbnb in Little Rock.
Eliminate those easy-to-lose keys with smart door locks
When a guest vacates the premises, they may follow your instructions and provide the keys for the next guest. However, if they snatched or copied a key, it would be possible to access your place again sometime in the future. Certainly, you have the option to replace your locks if a key is "misplaced", but that is not a timely or cost-effective solution.
You'll want to install smart door locks that function in conjunction with your security system to put these concerns at ease. You can then issue every guest their personal code number for entry. When your occupants check out, there's no reason to mess with an exchange of keys. You can simply program the temporary code to no longer work after they're gone. If former occupants reappear and make an attempt to enter with their old code on the keypad, you will be warned with an update of the failed attempt on your smartphone.
A smart security system makes vacant units appear to be inhabited
Of course, you hope that your Little Rock rental property will have a steady flow of renters, but that's not always true. Nevertheless, you need to make it seem that someone is home so your Airbnb isn't a potential target for burglars. Installing a security system that includes home automation allows you to benefit from smart lights, motion detection equipment, and surveillance systems that make your rental look lived-in.
Begin by programming your smart lighting to come on at specific hours of the evening. You will also want your security app to notify you if your cameras notice an unwanted guest hiding around your perimeter or coming to your primary entry. You can employ the 2-way talk functionality to make them know you can see them or program your lighting to instantly turn on when a surveillance device or motion detection equipment identifies suspicious activity.
Protect your Little Rock Airbnb with 24/7 monitoring
Your tenants will be more relaxed if they have protection against intruders, specifically when Little Rock is somewhat unfamiliar. In the event a thief attempts to invade your property, your security system will not only initiate the alarm siren but will also alert your 24/7 monitoring professionals. Now, no matter where you are, emergency services will be forthcoming. Your monitoring specialists will even act as your point person and loop you in as soon as you're free.
In addition to home invasions, your monitoring hub can be linked to fire alarms, flood detectors, and carbon monoxide detectors. It is likely to be harrowing for your guest if a water heater springs a leak or something catches fire. You not only will be sent a smartphone notification that a potentially dangerous event has happened, but the monitoring agent can also arrange for assistance while you're en route.
Request your new home security system in Little Rock
Protect your Little Rock Airbnb with a home security system. Fortunately, Vivint has popular choices like smart light bulbs, smart locks, and 24-hour monitoring. Contact us today and our home security experts will personalize a plan that's perfect for your property. Call (501) 510-8749 or submit the form to get started!
Areas Served Around Little Rock By Smart Security Specialists Your Local Vivint Authorized Dealer